Westin HDX Stainless Drop Nerf Step Bars
Printed Stainless steel for ultimate traction.
Step plates can be removed for easy cleaning.
Contains more heel/toe step area than other brands.
Powder coated steel resists corrosion.
Kit for mounting included.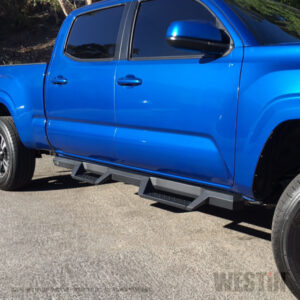 Westin R5 M-Series Wheel to Wheel Nerf Step bars
Smart and sleek step bar from wheel to wheel.
Manufactured from top of the line, corrosion resistant material.
Extra wide step platform allows for safer truck access.
Polished stainless steel has Lifetime warranty – Polished black has 3 year warranty.
Has three large slip resistant step pads.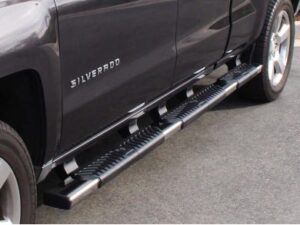 AMP Research Powerstep Running Boards
Automatically extends and retracts allowing for easy and safe access in and out of your vehicle.
Built in LED light system.
Durable powder coat finish resists corrosion.
Aluminum alloy & stainless steel manufacturing for ultimate reliability.
5 year/60,000 mile Warranty.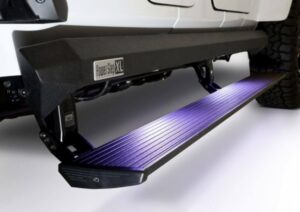 TrailFX 5″ Oval Step Bars
Polished Stainless Steel bars and bracket hardware.
Extra wide, slip proof Step Pads to maximize safe truck access.
Offers mild protection against road hazards and rubble.
Simple and seamless installation.
Lifetime Limited Warranty.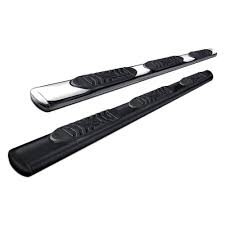 N-Fab Podium LG & SS Steps
Main cylinder has tight fit against vehicle frame.
One piece system for maximum durability and smooth installation.
Textured step base for easy access in all weather conditions.
Comes in cab length and wheel to wheel length.
Lifetime Warranty on Stainless Steel craftsmanship.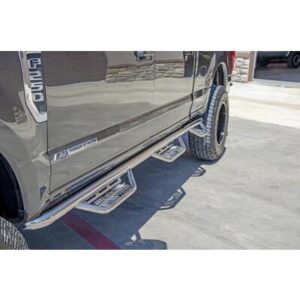 Luverne Mega Step 6.5″
Stylish appearance of nerf bars with the functionality of running boards.
Double aluminum stainless steel build provide long lasting strength and durability.
Rubber material on steps for ultimate traction and safety.
Optional backsplashes available for added tread protection.
Simple but precise fit to your vehicle for a sleek seamless look.