St louis' leading accessory dealer.
What are Car and truck accessories?   They are items that are added to a vehicle to enhance a vehicle's functionality, and/or appearance:
Interior accessories: These include items such as seat covers, floor mats, steering wheel covers, and sun shades.
Exterior accessories: These include items such as mud flaps, side steps, vent visors, nerf bars, grills, bumpers, winches, running boards, and bed liners.
Towing and hauling: These include items such as hitches, trailer wiring, and cargo carriers.
Lighting: These include items such as headlights, tail lights, spot lights, third brake lights, accent lighting, and fog lights.
Van Truck upfitting:  Installing racks,  shelving,  ladder hooks, tool boxes and partitions.
Let our  Car and Truck experts design a solution for your car, truck, or van to fit your needs and make every mission more enjoyable.  We have been serving the St Louis / Southern Illinois regions for the last 24 years.   Use our knowledge to help make the right decision.  We know every in and out of every accessory we sell.   What fits the best?   What looks the best?  Does it hold up?   We have all the answers, contact us today for a free quote and get our low price guarantee and installed right the first time.
Bed Tonneau Covers
Keep your large belonging safe and from getting put out in the weather.   We have the widest selection of tonneau covers and displays so we can help you narrow down the choices to help you make the best investment possible on your next bed cover.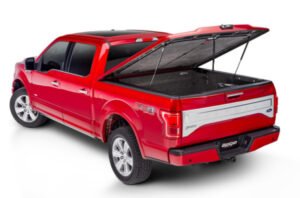 ---
Step Bars
Make your Truck or SUV more accessible.   If it is a step bar and it is worth carrying,  we carry it.   We have a large variety of options and the best prices in St louis to go along with them.  We even have motorized steps as well so it doesn't take away from the aesthetics of the vehicle and still provides all the form, fit, and function of a statically mounted nerf bar or side step.  Check them out.
---
Bug Shields
Bug shields have helped with rock chips and acid bug deposits since their creation.   They come in many styles and colors.  From color matched to chrome to clear.   Let us help make your truck easier to clean and to keep your hood paint from getting chewed up from rock chips.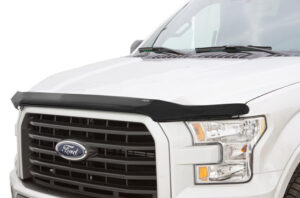 ---
Exhaust
Need your vehicle sounding better?   Want a meaner look?   Need better Gas mileage?   Cat back exhausts do just these things.    We buy from the largest suppliers in the world to make sure we can get you the best price possible to update your vehicles exhaust.  Let us know if you have any questions.  We have the answers.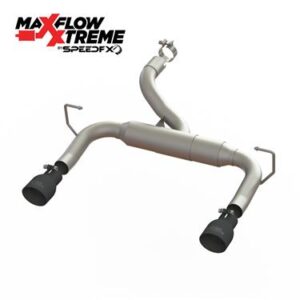 ---
Bedliners
Bed liners come in all sorts of flavors.  From carpet, hard snap in, to spray in bed liners.   We do them all.    Bed liners do what just they say they line your bed so that the metal in the bed does not get damaged from cargo that is put in the bed.   Each different type has an exact use it excels with.   Call us today to get you the right liner for your needs.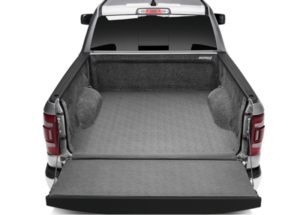 ---
Floor liners
Floor liner help contain the mess.   They keep the outside from contaminating your carpet.   Where as it is mud, rain, snow, rocks, and/or sand.   A good floor liner from husky liner or Weathertech is a must.   Clean your floor boards in seconds instead of hours.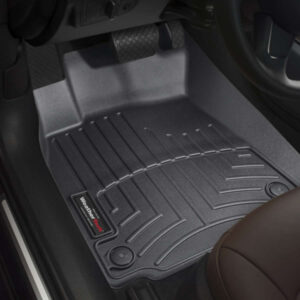 ---
Head lights and Tail light housings
Is your vehicle plagued with poorly design lighting housing?   Can't see when you are driving?  Or just look complete wrong for you vehicle?   Upgrading your lights is typically a fairly straight forward job.  Most newer housings have built in LED light arrays that put off an insane amount of light right where you need it.   Also updates the look of the vehicle to a more modern look.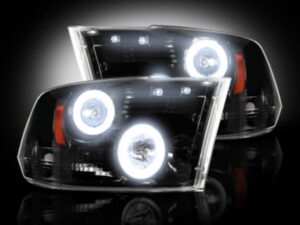 ---
Grills
Nothing changes the look of a truck more than a custom grill.   Choosing the right grill is tough with oud some direction.  Our experts have seen them all.   Know the ins and outs, how they install, and how they will wear over time.  Lets give your truck SUV a  new look come check them out today!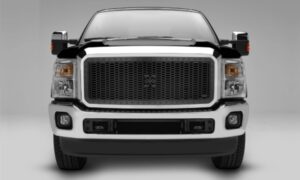 ---
Mud Flaps
Keep the mud and road debris where it belongs.  Off the side of your vehicle and back to the ground where it belongs.   We carry a large variety and types.   Some mount using factory hardware other have innovative clipping systems while others just bolt on.   We can give you the ins and outs along with the best price call us today.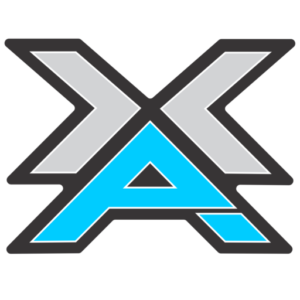 ---
Jeep Accessories
Being the most customizable vehicle on the road.  Jeep Wranglers have limitless options to give your jeep the unique function that you desire.   From front/rear bumpers, fenders, grills, lighting, audio, side steps, removable roofs, door racks, bully bars, winches.  You name it we have it.