St. Louis Area Paint Protection Film/Clear Car Bra Installers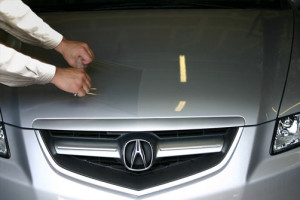 Do you own a car, truck, van, bus or semi with a new or factory paint job?  How would you like to protect it? By adding a virtually invisible urethane paint protection film to the front of your vehicle, Xclusive Autosound & Security can safeguard it from the small dents, scratches, chips and other mild damage caused by insects, small rocks, gravel, salt and other elements that the sometimes harsh St. Louis, MO weather can dispense.
Paint protective film/clear bras have been around since the late 1990's and have since come a long way. At Xclusive we only offer products from Xpel, the best clear bra manufacture around. Xpel has been in the clear bra industry since its inception and offers a superior product.
Our top-of-the-line product will automatically self heal. What does this mean for you? No swirl marks. No scuff marks. No white marks from rock chips. No babying the amazing machine you just purchased. Keep your car looking like the day you drove it off the showroom floor, and more importantly, drive it like it was meant to be driven. Get your car PROTECTED today.
For a FREE quote or more information, please call us today at 618.222.2234 or email us at [email protected]. You can also fill out our contact form here »
---
Paint Protection Film/Clear Car Bra FAQs
Will I be able to tell the film is on my car?
The answer is yes. However, if we showed you a car that we have applied it to, you probably wouldn't be able to notice it until we showed you how to identify it. It is virtually invisible. The only way you can really tell that it is on your car is to look for the edges. Which by themselves are still really difficult to see.
How long will the protective film last last?
This is a hard question to answer. It depends more on you than it does on the protective film. If you take care of it, and you keep your car in a garage, the answer is probably longer than the rest of the paint on the car. The film is warranted for 10 years for defects. The key to getting the film to last a long time is keeping it clean and keeping PPF protectant on the film.
Will the film damage my paint?
No, it will not damage your paint. However, if you do not take care of the film or you park it out in the desert and let it set for 10 years, it will become incredibly hard to get off. Regardless of what any one tells you. If they aren't taken care of all urethane materials will eventually turn yellowish. Keep in mind that the clear coat that is sprayed over your paint on your car is usually a urethane or a polyurethane. They will do the exact same thing if not taken car of properly.
How long does it take to install?
To do the job properly, we like to keep a car for two complete business days. Why so long? A couple of reasons. First, we have to clean your car top to bottom to make sure little to no contaminates gets under the film upon application. Second, we are protectionist. We want to make sure the car is perfect before it leaves our shop. To be perfect, we need to see the film approximately 16 hours into the drying process, since the film is put on with an application fluid. Can we arrange only a one day install? Certainly, but we prefer two. Lastly, within the first 24 hours of application, we strongly recommend keeping the car out of sunlight. The film needs to cure slowly on the paints surface to make sure no air pockets form under the self healing urethane paint protection film. This insures that your clear bra is indistinguishable from your paint.
How much does it cost?
The short answer is a lot less than repainting the part you are trying to protect. Also, If you elect to repaint, you are devaluing your car's collectability value and you will still be repainting it soon again with out the paint protection film applied to the new paint. To fully answer the question, depending on the part or parts being covered, film cost installed will range from $10-40 a square foot depending on the size and what is being covered.
Is my car a good candidate for paint protection film?
It depends mostly on the condition of the paint before application. If it is in great shape, then yes. Some colors show imperfections more than others. It is always a great idea to stop by so we can give you a free estimate and let us explain how the finished product will look.
I just had my car painted, how long do I have to wait to apply the film?
We recommend talking with the people who painted the car as all paint systems cure in different ways. You want to apply the Clear bra to a completely cured surface. Manufactures says it is safe to put on once you can no longer smell fresh paint by putting your nose closley to it. We recommend at least two weeks of drying time.
---
For a FREE quote or more information, please call us today at 618.222.2234 or email us at [email protected]. You can also fill out our contact form here »