Bluetooth Handsfree Systems
Bluetooth systems are the future of hands free cellular communications.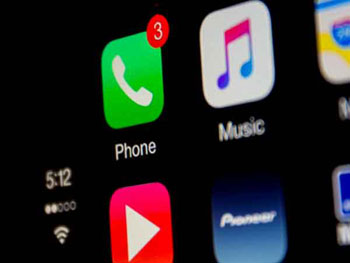 It is illegal in the State of Illinois to drive and talk on your phone with out a hands-free device.
Bluetooth is just easier than dialing.   Most Bluetooth systems have voice dialing capability.  This means you just say who you want to call and it does the rest.
Bluetooth audio is also a benefit of most Bluetooth systems.  It will allow you to play music through your car speakers with out having to connect any cords to your phone.
What is Bluetooth?
Bluetooth is a wireless data protocol that allows data to be transferred from one device to another.  It is used mostly for short range communication between devices.  It is data encrypted with a frequency hopping technology hopping over 1600 per second.  So you can insure all your data transfers are safe from hacking.
Hands free Visor clip on
This type of Bluetooth system is a portable type.  It is easily transferable from one vehicle to another and uses no external parts everything is self contained.  This means it has a built in speaker and microphone on the unit itself.  Most of these type have rechargeable batteries and are all available at Xclusive Autosound.
Custom Install using your Factory radio
These type of systems use your factory radio and speakers to broadcast the conversation over the car's speakers.  Once installed by one of our professional it will automatically pair with your phone as well as turn on and off when you turn your vehicle on or off.
Radio Upgrade
You want all the bells and whistles with an easy to control and innovative graphic user interface.  Our systems will download your phone book and call history.  Making it a snap to call anyone usually in less steps than it would take on your phone.   Making this usually the best option for ease of uses.